Our first feature car is Reed Koeppe's incredible 1979 Pro Stock Omni. This is the very last Sox & Martin Pro Stock team race car and was built as an IHRA Pro Stock and Match Race car! It is powered by a rare 383 B-engine with Hemi heads! The engine was built by Koffel's Place and Dave Heitz and has been dyno-tested and is ready to run. Another unique feature on this car is the two-speed PowerGlide transmission. Although it normally ran a Lenco, this is the only Sox & Martin car that ever tested and used a PowerGlide in Pro Stock. Out back is a Ramcharger's magnesium Dana 60. The new front nose is from Hairy Fiberglass and the car has fresh and correct paint, lettering, carpet and much, much more. Buddy Martin and Chick Deninno have both verified the authenticity of the car and signed off on it. Reed is selling this extremely cool and historic old race car. The price is $135,000. If you are seriously interested in the car, you can reach Reed at 308-380-8630.
Our next feature car is Jan & Ken Katarynchuk's stunningly beautiful 1970 Challenger R/T S.E. This is an all-numbers matching 383 4-speed car with a 3.23 Sure Grip rear end, houndstooth interior with bucket seats, overhead console and console-mounted pistol grip 4-speed shifter. It's also equipped with the rear Go-Wing spoiler and factory hood pins. What really makes this car unique is it's color combination. This is an extremely rare factory FM3 Panther Pink car with original V6M Magenta R/T side stripes! There were 3,979 Challenger R/T S.E.'s built in 1970, 400 of those were 383 4-speeds, and only seven Challenger R/T S.E.'s with the 383 4-speeds were built in the Panther Pink color. Only three of those seven cars came with the Magenta side stripe. This is the only one known to exist in the Chrysler Registry. As of March, 2009 there were 97 Panther Pink Challengers with all engine and transmission combinations listed in the Chrysler Registry. The Panther Pink paint was a $14.05 option in 1970. There were two Panther Pink with Magenta stripe Challenger R/T's sold by Chinook Chrysler in Calgary, Alberta, Canada. This car and a FM3 / V6M R/T 383 automatic that is now in the northeastern United States. This is a very late build car with a scheduled production date of June 23, 1970. 83,032 total 1970 Dodge Challengers were built. Out of those 83,032 Challengers made in 1970, this is the only one known to exist in this combination! Over the past 39 years, this car has had five owners, three of which owned the car for a total of 34 years. Jan and Ken bought the car in southern Saskatchewan in February of 2001 and began the restoration in April of 2005. The restoration was finished in July of 2008. The car took Best Of Show it's first time out at the Belvidere, Illinois show in July of 2008. The photos shown below are from the 2009 Mopars At The Strip event in Las Vegas. The last two photos were staged with a Utah Highway Patrol Charger that was also at the event. For more coverage of this car, be sure and check out our 2009 Mopars At The Strip Part 1 Road Trip & Show Cars DVD. A big thanks to Jan and Ken for sharing their super rare and cool Challenger with us!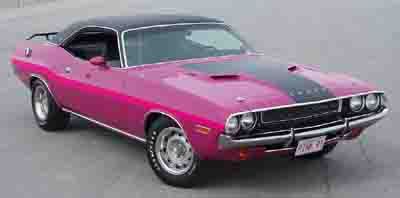 Our next feature car is Irene Degraff's beautiful FK5 Burnt Orange 1970 Cuda Gran Coupe 340 convertible. Irene has owned this cool Cuda since May of 1991. What's really cool about this car is that Irene drag races it! Here are some specs on the car. Irene's son Ritchie did up a steel crank 340 for the car topped with a mildly ported set of J heads. Eagle H-beam rods, Ross pistons, a Comp cam and lifters were added. A Edelbrock Torker intake with a 750 Holley carb setting on top of it let the air and fuel in and a set of TTI headers and Flowmaster mufflers let it all back out. A 727 Torqueflite trans with a shift kit and a TCI 3500 RPM torque converter send the power back to a 489 case 8 3/4 rear with 3.23 gears. All of these mods were good for a second and a half improvement for the Cuda with it now running in the 13.80's on street tires. A set of 4.10 gears would really wake this car up and get that small block screaming! With E-body convertibles fetching big dollars these days, it's refreshing to know that there are folks like Irene out there driving these cars the way they were meant to be driven! Thanks for sharing your beautiful and rare droptop Cuda with us!
Our next two feature cars belong to Ruth and Chester Zoph. Some of you may remember the Zoph's two '70 Road Runner convertibles, '70 Coronet 500 convertible and '74 Charger that we featured a few months back. Well feast your eyes on the Zoph's two nice weather daily-driver "His & Hers" Mopars! Chester's (His) is a beautiful 2006 Dodge Charger R/T 5.7 Hemi in Cool Vanilla with a dealer-installed Daytona stripe and spoiler package. Dodge never offered the Daytona in Cool Vanilla but by the looks of this car, they should have! Ruth's (Hers) is the newest addition to the Zoph's stable. It's a gorgerous 2009 Dodge Challenger in Tor Red with the 3.5 liter V-6. This car also has a dealer-installed stripe and spoiler package. Another big thanks to the Zophs for sharing their ever-growing stable of Mopars with us!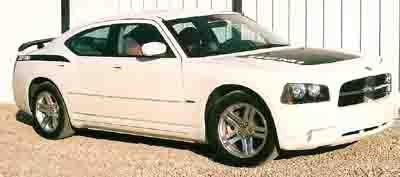 If you would like to see your Mopar featured here, just email us some nice photographs of it along with a few words telling about it and we'll be more than happy to feature it here! Just send the info to us at onebadsuperbird@gmail.com and we'll take it from there.